Studio Highlight
- Yellow Flash
Yellow Flash
(48" x 64") and
Green Bridge
(50"x 64") are a part of a group of paintings titled
Floating Connections
that came about after I moved to Beacon, NY from Brooklyn, NY. Often, I was on the train traveling through the Hudson River landscape, mesmerized by the visual effect of motion in relationship to spaciousness, clouds, light and shadows; taking in the colors and forms of the river and mountain landscape. This became a ritual of collage-making while on the train, which connected my consciousness to the Hudson River environment. This perception of being connected within nature, drawn from a moving or floating vantage point, is what animates the color and space in this group of collages and paintings.
Currently,
Yellow Flash
, 2008-2009, oil on canvas, is available to view. Inquiries are welcome.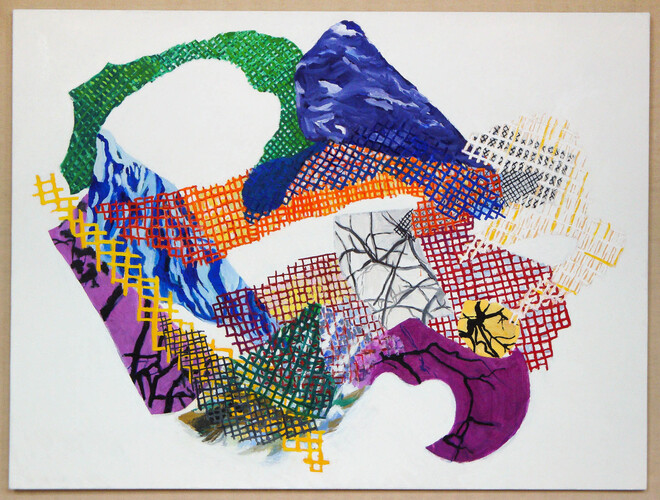 Curent Exhibition
Westchester Gallery, Center for the Digital Arts
Faculty & Staff Exhibition
September 11 to November 27, 2023
27 N. Division Street, Peekskill, NY 10566
Monday - Thursday, 10am - 8pm
Friday & Saturday, 10am - 4pm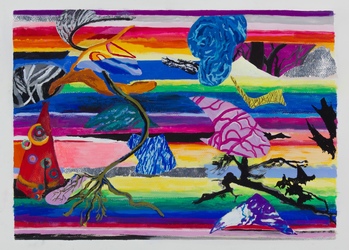 Exhibiting four paintings on paper. Ri Dance, 2018, 15" H x 22" W, gouache, metallic leaf.
Painting Statement
My concept of abstract "space" in my painting is about the space we share on Earth- the troposphere.
Immersed in colors, shapes, and kinetic sensations, the painterly expression of the tactility and realness of this living troposphere is the subject I search for in my spatial color abstractions.